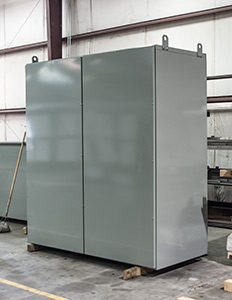 Custom Built Drop Over Enclosures
Andrews Fabrication has many years of experience manufacturing custom drop-over enclosures. Drop-over enclosures have the advantage of providing a more cost-effective solution with low installation time, integral weatherproofing and quick access to the interior components. These enclosures or covers are particularly suited to situations where space at the site is limited or to provide an extra layer of protection to the interior components.
Drop-over enclosures can also be designed to be demountable making it easy to be shipped to a site in kit form. This makes them ideal for use where an enclosure is required but access is very limited. The drop over can be engineered and built to enclose any type of equipment or size. Give us a call at 281-372-0440 to order an enclosure or to ask questions you may have.