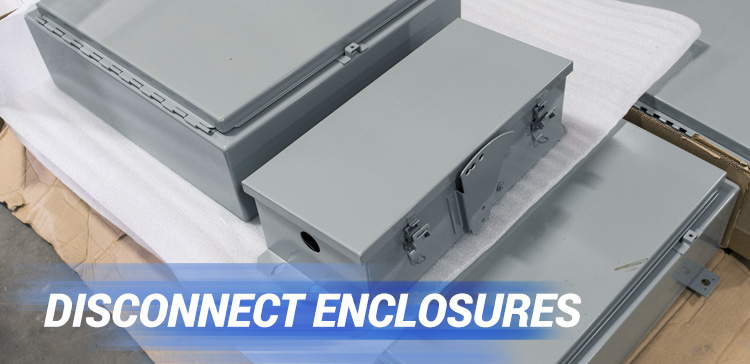 Custom Built Disconnect Enclosures
An industrial disconnect enclosure is a metallic housing used to protect electrical and control components. The enclosure could be made out of: mild steel, stainless steel, or aluminum. Disconnect Enclosures provide mounting space for a flange-mount disconnect handle that is used with many fusible disconnects or molded-case circuit breakers. Many enclosure options offer varying degrees of environmental protection from elements such as: dust, water, oil, chemicals, and rain as provided with UL Type Nema 1, Nema 3X, Nema 3R, Nema 4X, or Nema 12 ratings.
These general purpose disconnect enclosures accept major brand disconnect switches and circuit breakers, available with or without the supplied defeater door handle and handle hardware.
Andrews Fabrication excels at modifying and customizing products to your specifications. Contact us today for complete information.