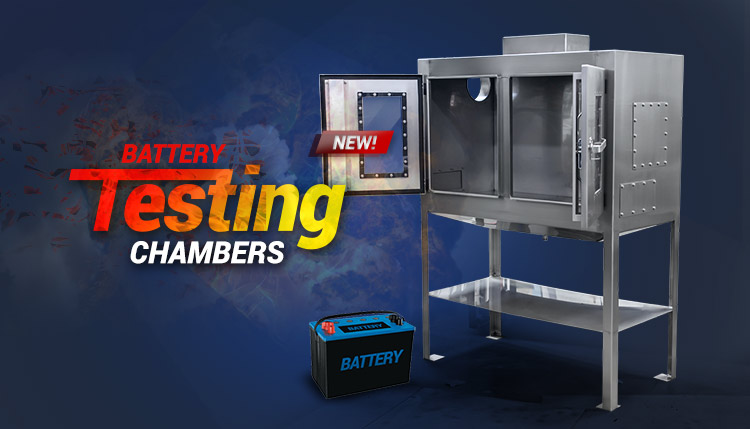 Custom Built Battery Test Chambers
Needing a Custom Built Battery Test Chamber? Testing batteries can create dangerous situations since they are done by simulating the limit conditions that may occur when there is a transfer of energy from the battery to the electric motor or during the battery's fast-recharge phase. Scenarios like these generate strong overheating or formation of dangerous environments.
Andrews Fabrication is the leading provider of custom built NEMA enclosures. With more than 50 years of combined experience, our Custom Built Battery Testing Chambers are manufactured to carefully test battery cells and lithium-ion battery packs. We offer diverse battery test chamber sizes and configurations that allow for a variety of battery types to be tested safely. Andrews Fabrication offers a variety of features to ensure the safety of the battery test chamber users while testing batteries. These features reduce the chance of an explosion and minimize the damaging effects of a spark-induced explosion.
Custom Built Battery Test Chambers for a Variety of Industries
Our Custom Built Battery Testing Chambers are supplied to a variety of industries including, automotive, computer, telecommunications, and energy markets. Our proven experience provides the most cost-effective solutions. Each battery test chamber is built to make your test equipment a complete integrated test solution. Andrews Fabrication can create safety features that can be customized to fit your company's battery-testing needs.
Battery Test Chambers Features:
Blow Off Ports
Custom Door Latches
Drain Pipes
Safety Isolation Barrier
Drainage Grates
See-though Windows/Doors
Custom Design
We are able