Custom Built Kubota Deer Stand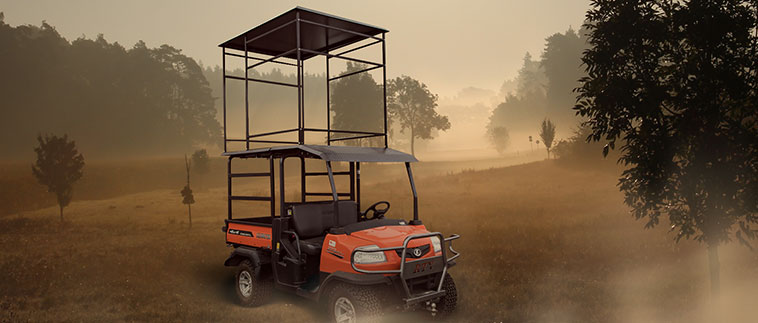 It's not everyday that we get to custom build a deer stand, we usually fabricate industrial grade electrical enclosures. Today we are happy to share a fun little project we custom built. A mobile deer stand that can be taken apart easily into few pieces. The deer stand is more like a two-story structure with a roof at the top and bottom to protect you from getting wet when it rains.
The main purpose for it was to provide a way for our client to elevate himself out of sight and move to different areas by driving the Kubota to a different location. If a buck does see you, the game is up. The stand, however, gives you a significant advantage. Allowing you to prepare, draw and make the shot all without a buck ever knowing what happened.
Benefits of a Mobile Deer Stand
If you're scouting time is limited, a mobile setup like this one is definitely a perfect way to go. This gives you the freedom to move to new areas with relative ease all season long. This tactic is your scouting and may even uncover areas that are worth putting in more time. Mobile deer stands let you move quickly based on changing conditions, especially important during the rut as deer activity changes rapidly. Bucks are unpredictable even with the best scouting so it is important to be confident in your ability to change locations to improve your odds of getting a shot at a buck.
The Stages of the Project
The project was all done within a couple of weeks and took precise measuring and some attention to detail. Please take a look at the photos below to see the before and after photos of the project. Click on the thumbnails to view slideshow and photos in a larger size.