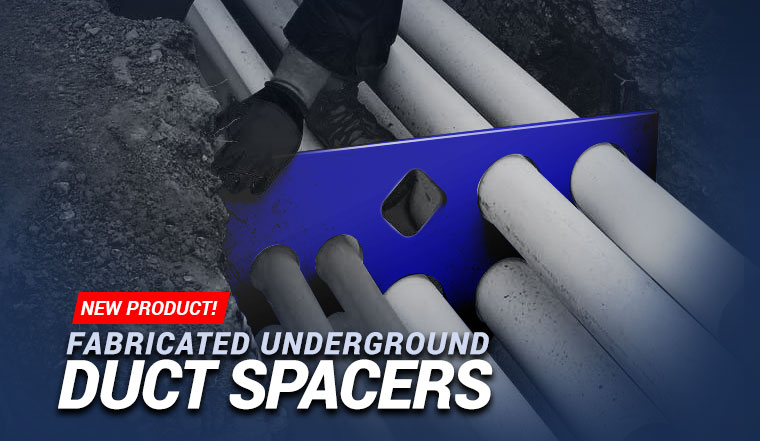 Fabricated Underground Duct Spacers
Our fabricated duct spacers are designed and manufactured to your exact specifications. If you are looking for a custom design to fit your application we can do that as well. We can design and customize your underground duct spacers according to your specs and quantity requirements. Our underground duct spacers are made out of durable high-density polyethylene (HDPE. It is sometimes called "alkathene" or "polythene" when used for pipes. With a high strength-to-density ratio, HDPE is used in the manufacturing of various products, like the production of plastic bottles, corrosion-resistant piping, geomembranes, and plastic lumber. HDPE is commonly recycled and has the number "2" as its resin identification code. HDPE is not only versatile, it's popular, and it works very well.
Why is HDPE a good option for underground duct spacers?
It's impact resistant.
It's long lasting and weather resistant, so that plastic lumber deck in the backyard can entertain generations of families.
It resists mold, mildew, rotting, and insects, so it's great for underground pipes used to deliver water.
Easily molded into nearly any shape, providing one of the primary benefits of most plastics: malleability.
HDPE often replaces heavier materials, in part because our society and many companies are pursuing sustainability goals, such as reducing the amount of material used in packaging and products. "Lightweight and strong" can translate into "less impact on the environment." For example, a recent study of six types of packaging found that plastics can
deliver more food with significantly less waste, energy use, and global warming potential than alternatives.


Other Products are Too Labor Intensive

To show how much easier our underground duct spacers make your job we will show an example below of how much mcuh complicated and labor intensive a job a can be using a different type of conduit spacers.


Custom Designed and Manufactured Underground Duct Spacers

We are a custom fabrication shop and that means that we are able to design and manufacture our products to fit your application exactly like you need them. With the Fabricated Duct Spacers, your duct bank job becomes easier. Fabricated Duct Spacers are designed and manufactured to your exact specifications. Your duct bank can be easily pre-assembled outside of the trench. This is helpful because it allows to work with more space and makes the job a lot easier to assemble.


Our Underground Duct Spacers Facilitate Your Job




Off-site duct bank assembly allows for labor savings
A safer installation – less time is needed in the trench
Do more work outside the ditch instead of down inside
Cannot fall or tip over
Easy flow of concrete through spacers in the pour
Fits all types and sizes of conduit.
Any separation and configuration can be made.

Standard & Custom Duct Spaces Available

Take a look below to see some of our standard underground duct spacer patterns or designs. We are able to design and manufacture any type of pattern to fit your application.


Please contact Andrews Fabrication at 281-372-0440 to request additional information on our Fabricated Underground Duct Spacers.